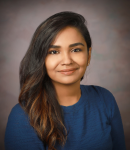 Yazhini Vallatharasu, M.D.
Office Locations
ThedaCare Cancer Care

2500 E Capitol Dr
Appleton , WI 54911
920-364-3600

ThedaCare Cancer Care Oshkosh

491 S Washburn St
Oshkosh , WI 54904
920-292-5555
About Me
Giving hope to patients during one of the toughest phases of their lives is gratifying. I love establishing long-term relationships with patients, and I strive to provide the most up-to-date, personalized treatments with compassion.
My patients are partners in the decisions about their care. I ensure their values and goals matter most.
Education
Residency: Gundersen Medical Foundation (2016)
Fellowship: Gundersen Medical Foundation (2019)
Medical/Dental School: The Tamil Nadu Dr. M.G.R. Medical University (2012)
Board Certifications
American Board of Internal Medicine: Internal Medicine (2016)
American Board of Internal Medicine: Hematology (2019)
American Board of Internal Medicine: Medical Oncology (2019)