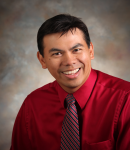 Orlando Angelo Taleon, M.D.
About Me
Listening always comes first. Before we can even begin to talk diagnosis and treatment scenarios, I want to hear all of the details from you – what's going in with your health and how you are feeling.
I'd describe my approach as comforting and optimistic. I am a positive, family-oriented provider who understands that it can be worrisome when medical issues come up. I try to keep visits relaxed and inject some humor to help you stay upbeat. I'm surrounded by a great team here and really appreciate the support ThedaCare provides.
Education
Residency: Veterans Memorial Medical Center (1997)
Residency: Medical College of Wisconsin (2007)
Medical/Dental School: University of the East, Philippine (1993)
Internship: Veterans Memorial Medical Center (1994)
Internship: Medical College of Wisconsin (2007)
Board Certifications
American Board of Internal Medicine: Internal Medicine (2019)
American Board of Internal Medicine: Internal Medicine (2007)