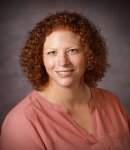 Lisa Michno, CSAC
Substance Abuse Counselor
About Me
My specialty and passion is substance abuse counseling. I believe that when individuals accept themselves, their past, and their current circumstances in life, they are able to change their attitudes and behavior. I help people decide whether they want to change and what kind of person they want to be.
As a counselor, it is not my job to tell people what to do or direct their behavior to my liking. But rather, I encourage individuals to be honest and find their voice so that they can shape themselves into the person they want to be.
The best part of my job is seeing people share parts of their stories they have hidden out of fear. Fear of judgement, reality, and/or fear of change are common to everyone and is one factor that keeps people stuck in life. In group settings, I have seen that when people share their stories, others gain strength as well as the individual. Acknowledging and saying out loud what we have kept hidden allows us to heal and move forward to experience a true freedom and acceptance in life.
Education
Post Graduate School: Lakeland College (2007)
Post Graduate School: Fox Valley Technical College (2013)
Board Certifications
No Board for this Specialty