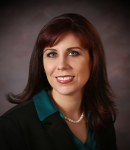 Kary Cappaert, A.N.P., B.S.N.
About Me
With family medicine, it's all about getting to know your patients and making them feel comfortable when they come in for appointments. The more our relationships grow with each visit, the better we are able to communicate. I believe this is really important as effective treatment plans and good outcomes are often the result of a team effort.
I love having the chance to work with people of so many different ages and conditions on a day-to-day basis. It encourages me to stay on top of the latest treatment options and fine-tune my skills.
Education
Post Graduate School: Concordia University (2015)
Board Certifications
American Academy of Nurse Practitioners (2016)