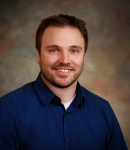 Jared Kohlenberg, D.O.
Family Medicine
, Obstetrics
About Me
I love the opportunity to treat whole families and get to know multiple generations in the process. It's very fulfilling to provide such a diverse range of care and see patients through every life stage from pediatrics and obstetrics to geriatrics.
My patients describe me as someone who is knowledgeable, easygoing and empathetic with a good sense of humor. As a provider, I aim to be relatable and will always be an advocate for the families I treat.
Education
Residency: Lincoln Regional Medical Center (2012)
Medical/Dental School: Des Moines University College of Osteopathic Medicine & Surgery (2009)
Board Certifications
American Board of Family Medicine: Family Medicine (2012)