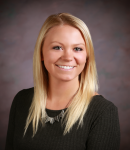 Ashley Rodrian, B.S.N., MSN, FNP
About Me
I always want to learn about my patients first—outside of their medical diagnoses—and learn what's most important to them. This helps to create our relationship. I am always open with my patients about what I am thinking and explain everything I am doing and why. And I explain in terms the patients can understand.
I was drawn to rheumatology because it can be a very complex and challenging specialty. Patients are often in a significant amount of pain or have very vague symptoms that make their diagnosis challenging to uncover. Together, we create a plan that is going to be best for them and their lifestyles. I follow up closely with my patients to evaluate how they are doing and adjust plans as needed.
I truly love getting to know my patients and helping them through their different health conditions.
Education
Post Graduate School: Marian University (2019)
Board Certifications
American Academy of Nurse Practitioners (2019)