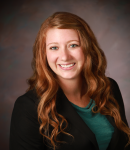 Angie Schiesser, A.P.R.N.
About Me
I was drawn to become a nurse practitioner because I enjoy caring for patients and families across their lifespans. I like what I do because of the opportunity to form new patient relationships.
My approach to care is to engage patients and their families in addressing their healthcare needs, helping them understand their illness, and encouraging behaviors that promote better health.
Education
Post Graduate School: Bellin College of Nursing (2019)
Board Certifications
American Academy of Nurse Practitioners (2019)