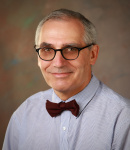 Alain Broccard, M.D.
Intensivist-Critical Care
About Me
I strive to openly educate patients about their complex medical problems so that families can make sensible medical decisions. My goal is to provide everyone the type of care I would want for my family or myself, namely care that is informed, compassionate and scientifically sound.
I believe "less can be more" and that as physicians, we must always consider the risk versus benefit in everything we do. Being honest about the limits of medicine is also central to my care philosophy, as is our oath, "first do no harm."
I am originally from Switzerland where I received most of my medical training. I have practiced in the U.S. for nearly 20 years, both in large tertiary academic centers and community-based institutions. I have dedicated my career to practicing and teaching critical care, for which I am considered an expert in the international medical community.
Education
Residency: UNIVERSITY HOSPITAL OF GENEVA (1987)
Residency: UNIVERSITY HOSPITAL OF GENEVA (1990)
Fellowship: University Hospital of Lausanne (1992)
Fellowship: Fairview-University Medical Center (1997)
Fellowship: Mayo Clinic (1998)
Medical/Dental School: University of Geneva (1985)
Internship: Hospital de Zone de Morges (1986)
Board Certifications
American Board of Internal Medicine: Internal Medicine (2004)
American Board of Internal Medicine: Critical Care Medicine (2005)
American Board of Internal Medicine: Pulmonary Disease (2005)
American Board of Internal Medicine: Sleep Medicine (2007)